Since Facebook is one of the most popular social media platforms today, having over 2 billion active users each month, it is highly important to properly present your business on this platform. Especially if your business has just started – visibility that Facebook offers is crucial for its development.
Through this blog, we will show you how to quickly and easily create a business page on Facebook where you can showcase your brand and products, increase traffic to your site and do many more useful things to promote your business.
First, to create your business page, you need to have a personal profile on Facebook. After logging in to your profile, click on Pages, then Create a new page located at the upper right corner of the screen. After that, Facebook will offer you more options (Local business and place, Brand or Product, Company, Organization or Institution, etc.).
Choose one of the following options that describes your business or one that potential customers will easily associate with it.
After selecting a business type, you will enter the desired name of your page, the job category (usually describing your job closer), address, postal code, and telephone number. When you have completed all the fields, click on Get started. After accepting the terms used by Facebook, you will see your new page, which you can customize as you wish.
Next step will be to upload a profile and cover images. When choosing the right images, keep in mind Facebook dimensions. You can find them here.
It is very important to leave a good visual impression on your audience, so wisely choose the images you want to post. Make sure they are associated with your brand and displayed in the right way. If you already have a brand, consider posting your logo as a profile picture. Also, keep in mind that Facebook will cut your image into a circle, so carefully design the corners of the image. When you select the right one, click on upload profile photo. The cover image has different dimensions: 820×320 px on the desktop and 640×360 px on smartphones. Preferably use .png files. You can also add a description of the photos and insert a link to your site.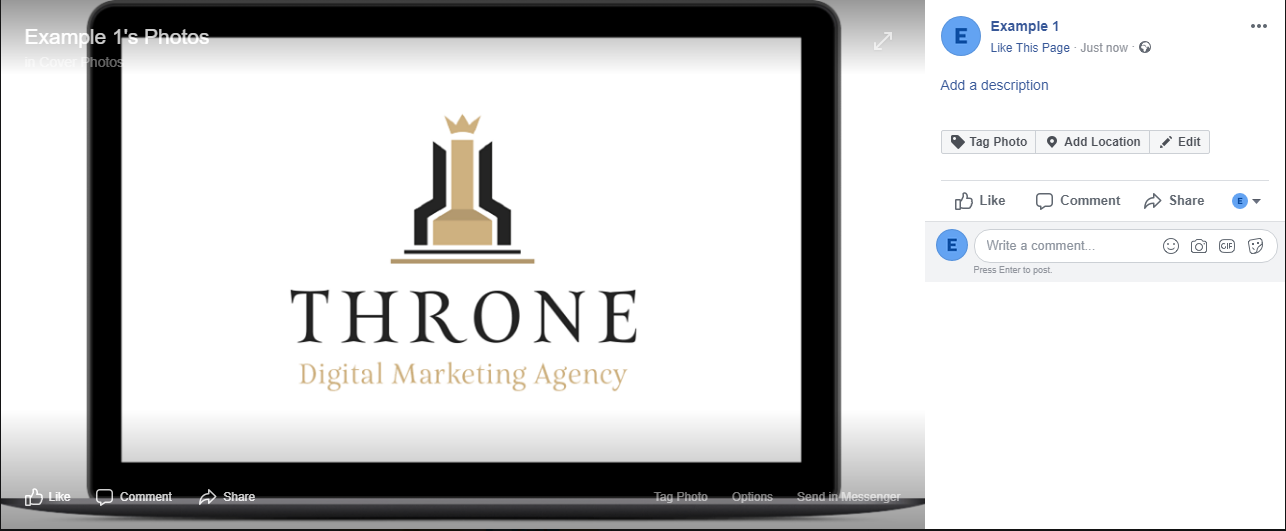 The next step in creating a business page is very important, as it involves creating a Call to action button. In the upper right corner, under the cover image, click Add call to action button and then select one of the options offered depending on the type of work you do. The most commonly chosen options are book now or learn more.
The next action is to create your username. This will make easier for Facebook users to find you. Username should be easily recognizable, short and "user-friendly". Click on Create username on the left side under the profile picture and adjust it as desired.
You can now complete other parts of the page, such as the About section. Although you will be tempted to leave the details for later, it is important that you fill out all the fields in the About Your Facebook Page section at the beginning. As Facebook is often the first place a customer visits to get information about your business, having all the sections set up on the page is extremely important. If someone is looking for a business that is open until 9 pm and can not find this information on your page, they will certainly search until they find it somewhere else. And you don't want that!
After completing all sections offered by Facebook and creating your page, now is the time for your first post. We will write about this topic in the upcoming weeks. Stay tuned.
Recommendation: Use Canva for editing your profile and cover photo. It's a simplified graphic-design tool website. It uses a drag-and-drop format and provides access to photographs, vector images, graphics, and fonts. It is used by non-designers as well as professionals. 
If you would like to receive a free evaluation of your existing business site, please contact us!